Experience the Sizzling Nightlife
The nation of Monaco might be small in terms of size, but it is a giant when it comes to glamour. Monaco is the centerpiece for luxury holidaying in Europe. You won't find another location in Europe that attracts the rich and famous as much as Monte Carlo. Monaco's every night is filled with glamour and effervescent spirits. A night in Monaco offers such variety that you will need to spend more than one night to fully appreciate it. Every night in Monaco is an exceptional. The coolest bar, clubs on the coast and glitziest locations makes it more attractive.
Monaco has a diverse nighttime entertainment menu. The palatial casinos and glitzy clubs of the famous Monte Carlo area are worthwhile if you are looking for a high glamour factor. Pubs, cafes, and live music clubs are also found in Monaco. These venues give the destination a well-rounded after-dark scene that offers something for everyone, no matter what their taste is.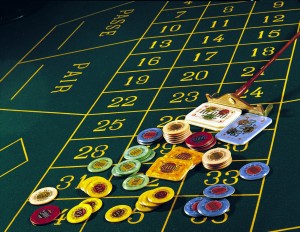 Let yourself be carried along by the intense excitement of the game in the most beautiful casinos in the world, all within a 200 meter perimeter in Monte-Carlo. Casino de Monte Carlo is the perfect destination for people who want to get a taste of what it's like to bask in riches. With beautifully gilded ceilings and stunning architecture everywhere you look, this truly is the pinnacle of glamour and grandeur. The casino is a cornerstone of Monaco where the rich come to gamble their fortunes.
A shrine for gambling, poker and partying, Sun Casino is a home to exclusive games, live music and an excellent ambience. Casino La Rascasse with 85 slot machines also offers exciting interactive games for the visitors.
Monaco is a haven for the party animals as nightlife is an important part of the tiny country and it is one of the safest countires in the world. Jimmy'z being a world famous night club, it has witnessed stars from all over the world. No two nights at Jimmy'z are ever the same as the music, the ambiance and visiting celebrities change every day. Another hot spot is the Sass Café which is open till the sunrise. The bar plays live music and is regarded as an "IN" spot for celebrities. NI Box Night Club is designed as a modern and futuristic venue for party in Monaco. The night club has a huge dance floor, VIP area and a vast terrace with one of the best sea views. One can also choose to sip fresh fruit cocktail with their feet in water or settle in the shade of thatched roof at the Alang Bar.Monaco cuisine is synonymous with an eclectic offering which is truly a connoisseur's delight. Some of the cuisines you can enjoy are Fusion, Italian, Gourmet, Mediterranean, Pizzeria, Traditional French and Exotic. Each cuisine has its own specialty and taste. Where Fusion cuisine is the combination of Mediterranean and tastes of Asia which offers a chance to enjoy new locally inspired tastes with extra foreign touch, Italian cuisine has a special place in the Principality, with a huge choice of pasta, seafood, grilled fish and Milanese escalopes.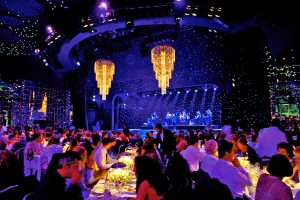 A pleasant way to enjoy the evening is to attend the magnificent gala evenings of Monaco in Salle Des Etoiles. The Open Air Cinema is also an ideal way to enjoy the breeze while watching a film. Once can also choose to take an evening stroll in the impressive Monaco Old Town.
The arrival of Buddha Bar in the tiny principality has brought extravagant bar chic to Monaco's nightlife. It has a location in the heart of the city. This exotically decorated lounge and restaurant is the essence of hip, with Asian fusion food and cutting edge ambient and electronic music complimenting the venue's Eastern theme.
Monaco is a glamorous place. However, the nightlife is reasonably diverse, with plazas, bars and music venues complimenting the more well-known and glitzy clubs and casinos. The tiny country allows you to spend unforgettable nights, party at a club and dance until dawn, in the chic, fantastic and unique atmosphere. A night in Monaco offers such variety that you will need to spend more than one night to fully appreciate it.
Choosing the right travel gear for your trip can feel overwhelming. With the Indian traveller becoming open to newer experiences, SOTC has witnessed a rapid change in how a tourist
Korean Air celebrated its inaugural Delhi-Incheon direct flight service with a welcome ceremony at Delhi's Indira Gandhi Airport. Korean Air's maiden flight from Incheon to Delhi, KE481, touched down at
Breathtaking works of art by world-renowned artist Dale Chihuly to be exhibited at the New York Botanical Garden from April 22 through October 29, 2017! For the first time in
Compared to the list of domestic destinations that are popular during summer vacation or in the second-half of the year during Diwali and year-end winter holidays, the list of monsoon
More than 40,000 Indian travellers have visited the country from January to June, 2018. After reaching an all time high in 2017, Israel has yet again broken its record of
At a special press conference held at World Travel Market (WTM) on 6th November 2017 lead by the Minister of Tourism for Argentina, Gustavo Santos and CEO of Edelweiss Air Mr.
The Air India flight took-off from Thiruvananthapuram at 9.45 am and landed at Kannur at 11.38 am. This landing was necessary for the aviation ministry to clear operation at the
To venture into the East & South, earmarks 30% of its hotel portfolio for pilgrimage segment. With the hospitality industry showing signs of recovery from the decade long slump, India's
Prime Minister Sheikh Hasina and her Indian counterpart Narendra Modi have jointly launched a new passenger train service between Kolkata and Bangladesh's southwestern industrial city of Khulna. "The train has
flydubai becomes first UAE airline to provide direct air links to Kilimanjaro Dubai-based carrier expands network in Africa to twelve destinations with 14 flights a week Kilimanjaro becomes third point
OYO enjoys robust business growth, witnesses huge market potential in China while continuing its dominance in India. OYO Hotels now a 1,000 hotel strong chain in China covering 28 provinces,
Emirates has announced that it will introduce two additional flights to its Toronto (YYZ) service, complementing its existing schedule and providing even more choice and convenience to travellers. The additional