Indian Travel Trade Professionals Experience Destination Abu Dhabi
Abu Dhabi Tourism & Culture Authority (TCA Abu Dhabi) in association with Etihad Airways, recently conducted a familiarization trip for top-of-the-line travel trade professionals selected from pan-India, during 26th – 30th April 2015.
The agents were treated with traditional Arabian Hospitality at Hotel Inspections, Hosted Lunch / Dinner and Site Tours at various stunning properties, including Emirates Palace, Ritz Carlton, Fairmount, Intercontinental, St. Regis, Shangri La and Jumeirah at Etihad Towers.
The agents visited the Falcon Hospital, and tried their hand at the regal sport of falconry, which was a truly educative experience for them. They were spellbound with the serene and soulful environment of the Sheikh Zayed Grand Mosque, especially witnessing its grandeur under the evening lights. Ferrari World Abu Dhabi was another favorite for the thrilling rides and exhibitions, which they enjoyed thoroughly. They also enjoyed the visit to Marina Mall and Yas Mall, which took everyone by surprise, thanks to the area and sheer scale of construction. The agents were impressed by the technology and displays at the Etihad Innovation Centre.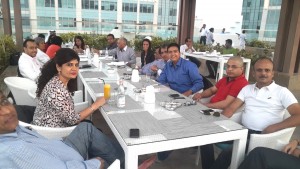 Bejan Dinshaw, Country Manager, India, TCA Abu Dhabi, said, "Abu Dhabi is ready and eager to welcome Indian outbound travellers in the summer season, with a number of activities and attractions planned to suit all interests and age groups. With this objective, select travel trade professionals, chosen from all around India, visited and experienced the very best that we have to offer. We have received a very positive response from the participants of the trip, which was both educative and enjoyable for them. We are confident that as a result of this FAM Trip, the trade can market Abu Dhabi as the preferred choice for an exotic holiday experience."
Neerja Bhatia, Etihad Airways' General Manager – India said, "Looking at the remarkable success of this familiarization trip, I am deeply honoured by the sentiments of all our trade partners who travelled to Abu Dhabi. Through our collaboration with TCA Abu Dhabi, we aimed to showcase our connectivity to Abu Dhabi and promote the destination. We look forward to conducting similar innovative and interesting activities in future."
Experiencing a well-rounded destination with so much to offer to each travel segment, left the agents spellbound. Having first-hand experience of Abu Dhabi and noticing the attention to detail which is paid to make it a true destination of distinction, was much appreciated. From the glitzy to the rustic, modern and traditional, Abu Dhabi is well worth an extended visit to truly absorb the charms of this destination.
To deliver and curate Heritage walks and content driven tourism in several cities of Madhya Pradesh. Madhya Pradesh Tourism Board empanelled 'India City Walks', based out of New Delhi a three-time
The Producers Guild of India in association with Robinville Intech representing Innsbruck Tourism, Cine Tirol and Location Austria organized an event titled "Bollywood goes to Austria, Tirol and Innsbruck". A panel discussion highlighted
The 'toy train' and stations of Darjeeling were declared World Heritage sites two decades ago, then a first for India. Alterations, destruction of some structures, disposing of heritage railway material