Indian Travel Trade Professionals Experience Destination Abu Dhabi
Abu Dhabi Tourism & Culture Authority (TCA Abu Dhabi) in association with Etihad Airways, recently conducted a familiarization trip for top-of-the-line travel trade professionals selected from pan-India, during 26th – 30th April 2015.
The agents were treated with traditional Arabian Hospitality at Hotel Inspections, Hosted Lunch / Dinner and Site Tours at various stunning properties, including Emirates Palace, Ritz Carlton, Fairmount, Intercontinental, St. Regis, Shangri La and Jumeirah at Etihad Towers.
The agents visited the Falcon Hospital, and tried their hand at the regal sport of falconry, which was a truly educative experience for them. They were spellbound with the serene and soulful environment of the Sheikh Zayed Grand Mosque, especially witnessing its grandeur under the evening lights. Ferrari World Abu Dhabi was another favorite for the thrilling rides and exhibitions, which they enjoyed thoroughly. They also enjoyed the visit to Marina Mall and Yas Mall, which took everyone by surprise, thanks to the area and sheer scale of construction. The agents were impressed by the technology and displays at the Etihad Innovation Centre.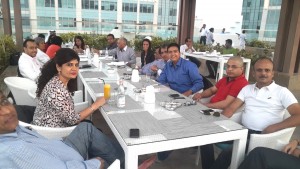 Bejan Dinshaw, Country Manager, India, TCA Abu Dhabi, said, "Abu Dhabi is ready and eager to welcome Indian outbound travellers in the summer season, with a number of activities and attractions planned to suit all interests and age groups. With this objective, select travel trade professionals, chosen from all around India, visited and experienced the very best that we have to offer. We have received a very positive response from the participants of the trip, which was both educative and enjoyable for them. We are confident that as a result of this FAM Trip, the trade can market Abu Dhabi as the preferred choice for an exotic holiday experience."
Neerja Bhatia, Etihad Airways' General Manager – India said, "Looking at the remarkable success of this familiarization trip, I am deeply honoured by the sentiments of all our trade partners who travelled to Abu Dhabi. Through our collaboration with TCA Abu Dhabi, we aimed to showcase our connectivity to Abu Dhabi and promote the destination. We look forward to conducting similar innovative and interesting activities in future."
Experiencing a well-rounded destination with so much to offer to each travel segment, left the agents spellbound. Having first-hand experience of Abu Dhabi and noticing the attention to detail which is paid to make it a true destination of distinction, was much appreciated. From the glitzy to the rustic, modern and traditional, Abu Dhabi is well worth an extended visit to truly absorb the charms of this destination.
The Hotel Association of Portugal (AHP) is launching an online platform to help tourists from around the world book accommodation in the country simply, securely and directly, following comprehensive research
Packages start at just HKD 1,138 Asia's largest annual indoor frozen wonderland,Kung Fu Panda Adventure Ice World with the DreamWorks All-Stars, is returning to The Venetian®Macao for a limited time
Between the crystal clear waters and sky, the Maldives truly has 50 shades of blue.  The perfect tropical escape begins without worry about budgets and bills.  The Centara Grand Island
Spain registered 105,646 Indian arrivals in 2016, an increment of 17.08% over the previous year. In this way, for the first time it has surpassed the number of 100,000 tourists coming from India. The
Receiving a million visits per year, the Guggenheim Bilbao Museum is a symbol of Bilbao's transformation and its evolution into one of the avantgarde cities of the 21st century. A spectacular building
Yas Island, Abu Dhabi, is a stunning, cosmopolitan and energetic location looking to host exciting events that will support it in celebrating Abu Dhabi's cultural diversity, driving overnight visitation to
Dr. Abed Al Razzaq Arabiyat, Managing Director, Jordan Tourism Board, talks about the importance of tourism in Jordan Jordan is working on utilizing its existing assets, zoning in on its
Think Strawberries has been appointed as the India and Middle East representative office of Cocoon Maldives. Maldives can be summarized as a dazzling landscape of immaculate beaches, azure seas, palm
'2015 Discover Thainess' campaign aims to attract international tourists showcasing cultural and traditional diversity of Thailand and Thai way of life. Over many decades, Thailand has emerged a preferred destination
The  Indian Railway  Catering and Tourism Corporation  Ltd. (IRCTC)  in association with  Goa  Tourism Development   Corporation (GTDC)  is  set  to  have  a  Special  Carnaval Charter Coach  chugging  into  Goa  during
Kerzner International Holdings Limited ("Kerzner") achieved a new milestone in its continued evolution of the One&Only portfolio, as it introduced One&Only Urban Resorts. To provide the experiences One&Only guests have
Many people may think that tourism in Turkey is limited to the summer, and may not know much about many beautiful destinations which can be visited in winter as well.