A TASTE OF TRADITION
Thousands flock to Emirati Kitchen at Abu Dhabi Food Festival
The inaugural Abu Dhabi Food Festival got off to a sizzling start at the weekend with thousands more visitors than expected flocking to Abu Dhabi's Corniche to enjoy the local culture, cuisine, demonstrations and master classes at the Emirati Kitchen event.
The three-day celebration of Emirati food, starring local and international chefs, attracted more than 14,000 visitors, vastly exceeding the expectations of organisers.
The weekend also saw Street Feast – another event incorporated into the Abu Dhabi Food Festival –delight food fans in Madinat Zayed in the Western Region. A caravan of international and local food trucks served a wide array of dishes from around the world to more than a thousand visitors and now arrives to Al Jahili Park in Al Ain this weekend, before heading to Abu Dhabi Corniche on the 19th to 21st February.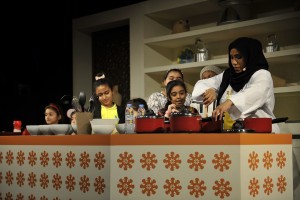 Emirati celebrity chef Khulood Atiq, a cuisine consultant for Abu Dhabi Tourism & Culture Authority (TCA Abu Dhabi), which is organising the festival, said: "This was the first time that we have held Emirati Kitchen and it was very well received with an excellent turn out. I had people from as far away as Brazil and New Zealand attending the master classes and trying Emirati cuisine for the first time.
"It is important that we demonstrate and show people our customs and traditions and food is a vital part our culture. I really hope people go home and learn to cook traditional Emirati dishes and enjoy the diversity of our food. Next year we will be back and making it even bigger and better."
Next week sees the return of Gourmet Abu Dhabi – a 10-day celebration of food taking place across some of Abu Dhabi's best hotels and restaurants – which is also part of the food festival.
"It is important for overseas visitors to have the opportunity to learn more about the traditions of Arabian hospitality, and there is no better means than by hands-on experiences such as this which bring many aspects together," said Briton Simon Baker, a first time visitor to the Emirate.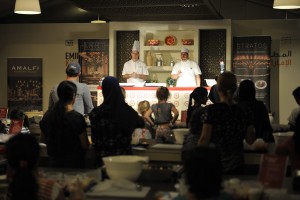 "Cooking a traditional dish under the guidance of a local chef in one of the Emirati Kitchen master class sessions has given me a taste of what else I can look forward to when eating out across the emirate during my stay."
Abu Dhabi Food Festival runs until February 21. For more information see www.abudhabievents.ae
-ENDS-
ABOUT ABU DHABI TOURISM & CULTURE AUTHORITY
Abu Dhabi Tourism & Culture Authority conserves and promotes the heritage and culture of Abu Dhabi emirate and leverages them in the development of a world-class, sustainable destination of distinction which enriches the lives of visitors and residents alike. The authority manages the emirate's tourism sector and markets the destination internationally through a wide range of activities aimed at attracting visitors and investment. Its policies, plans and programmes relate to the preservation of heritage and culture, including protecting archaeological and historical sites and to developing museums, including the Louvre Abu Dhabi, Zayed National Museum and Guggenheim Abu Dhabi. The authority supports intellectual and artistic activities and cultural events to nurture a rich cultural environment and honour the emirate's heritage. A key authority role is to create synergy in the destination's development through close co-ordination with its wide-ranging stakeholder base.
For more information please contact:
Pukhraj Varshneya
PR and Brand Executive
Abu Dhabi Tourism & Culture Authority
India
Tel: +91 11 23737348, +91 9810871469 Fax: +91 11 23350270
Email: PVarshneya@tcaabudhabi.ae
Snow-covered slopes sparkling in the sun, and a wide, high valley, bewitching in its multifaceted beauty, the glamorous St. Moritz, embedded in the inspiring Engadin valley, is a snow-sports paradise. Ski enthusiasts have
The Assam government has appointed top Bollywood actor Priyanka Chopra as the state's tourism brand ambassador for two years. The Assam government has appointed top Bollywood actor Priyanka Chopra as
First upscale hotel in holy town of Shirdi slated to open in Q1 2019 Hilton and DoubleTree by Hilton today announced the signing of a management agreement with Trillion Real Estate & Properties