Back by Popular Demand: THRILLER LIVE, a Sensational Celebration of the Music of Michael Jackson, Returns to The Parisian Macao
Concert commemorating the life of the Prince of Pop back at The Parisian Theatre from April 28 – Sept. 3, 2017; THRILLER LIVE Package available
THRILLER LIVE, a spectacular theatrical concert paying tribute to the world's greatest ever entertainer, Michael Jackson, will return to The Parisian Macao due to popular demand from April 28 – Sept. 3, 2017. Tickets go on sale today and are available at all Cotai Ticketing box offices.
THRILLER LIVE, which features Jackson's timeless songs and signature dance moves, has been performed close to 5,500 times and been seen by more than four million people in over 30 countries, continues to moonwalk around the world. It was the debut show at The Parisian Macao's new Parisian Theatre when it opened in September last year. Due to its amazing reception it is now coming back for an extended season.
Direct from London's West End where it is now in its record-breaking ninth year,
THRILLER LIVE is a 90-minute, high-energy explosion of pop, rock, soul and disco that takes the audience on a magical audio-visual journey through Michael Jackson's astonishing 45-year musical legacy.
As well as experiencing his legendary live performance and innovative dance routines, fans can expect to hear their favourite Jackson songs perfectly rendered by the exceptionally talented cast, including I Want You Back, ABC, Man in the Mirror, Black Or White, The Way You Make Me Feel, Smooth Criminal, Beat It, Billie Jean, Dirty Diana, Bad, They Don't Care About Us, Dangerous, Thriller and many more.
Leading the cast of talented performers are Britt Quentin, Rory Taylor, Shaquille Hemmans, Chevone Stewart and Victoria Pasion.
A dynamic vocalist, songwriter, producer and director, Britt Quentin has performed around the world as musical director with the internationally-acclaimed Los Angeles-based jazz-funk-pop vocal group M-pact, before relocating to London's West End as resident director of
THRILLER LIVE. He has shared the stage with pop superstars including Stevie Wonder, Sheryl Crow, Lionel Richie, Kid Rock and John Meyer, jazz legends Natalie Cole, Herbie Hancock, and Kenny G, and has worked on recordings for Disney, Yahoo and The Cartoon Network.
Rory Taylor is a singer and musician from the UK whose band 54321 has released two albums and performed alongside major acts including Ace Of Base and The Beach Boys. He was runner-up on UK TV's Superstar singing competition, and has appeared in high-profile international tours of shows including Jesus Christ Superstar, Rent The Musical and West End Women.
Enhance your experience by taking advantage of the THRILLER LIVE Package available from April 21 – Sept. 1, 2017 at one of four world-class hotels at The Venetian® Macao, The Parisian Macao, Conrad Macao, Cotai Central and Holiday Inn Macao Cotai Central, including breakfast. Guests can also dine at over 150 award-winning local and international restaurants and indulge in retail therapy at more than 850 duty free stores. Book a room now to enjoy a getaway in an exciting world of integrated resorts.
Booking period:        April 21 – Sept. 1, 2017
Stay period:               April 28 – Sept. 3, 2017
The Venetian Macao
Accommodation for two in a Royale Suite starting from HKD/MOP 1,658* per night inclusive of:
•           Daily breakfast at Café Deco or lunch at Bambu OR Golden Peacock
•           Thriller Live B-Reserve tickets for two
The Parisian Macao
Accommodation for two in a Deluxe Room starting from HKD/MOP 1,278* per night inclusive of:
•           Daily breakfast at Le Buffet
•           Thriller Live C-Reserve tickets for two
Conrad Macao, Cotai Central
Accommodation for two in a King Deluxe Room starting from HKD/MOP 1,698* per night inclusive of:
•           Daily breakfast at Grand Orbit
•           Thriller Live Show A-Reserve tickets for two
Holiday Inn Macao Cotai Central
Accommodation for two in a King Superior Room starting from HKD/MOP 1,028* per night inclusive of:
•           Daily breakfast at Yum Cha
•           Thriller Live C-Reserve tickets for two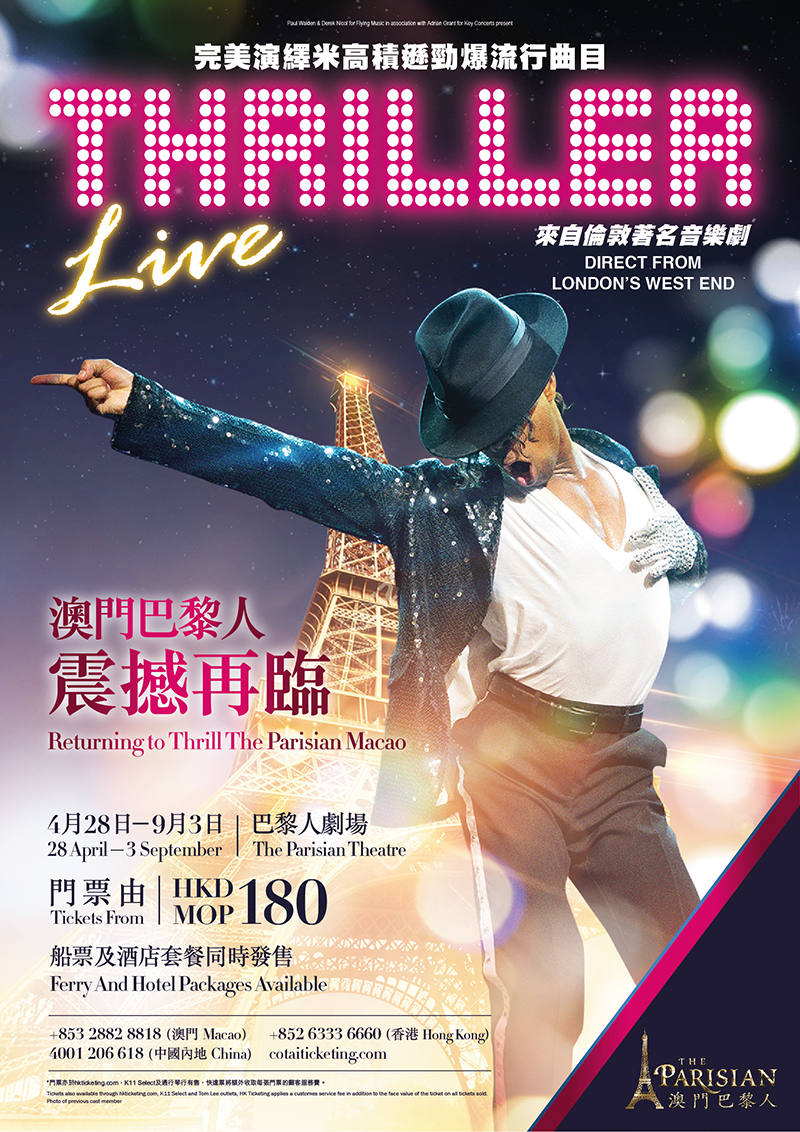 Under the executive order signed by President Donald Trump last Friday, refugees from all over the world will be denied US entry for 120 days. UN Secretary-General Antonio Guterres said
Ethiopian Airlines, the fastest growing and most profitable African airline, is pleased to announce that it will add a thrice weekly service, on top of its daily flights, to Guangzhou
With bidding for Air India out of its way, Tata Sons-Singapore Airlines (SIA) JV Vistara is all set to announce its fleet expansion plans — including a significant order for