DoubleTree by Hilton Gurugram Baani Square Marks 10th Anniversary with the announcement of "The Big 10"
The iconic hotel, DoubleTree by Hilton Gurugram Baani Square known for its aesthetic charm, warm hospitality and ideal location, celebrated its 10th anniversary on 15th January. The Hotel marked the occasion by unveiling "The Big 10" initiatives that shaped and strengthened the identity of the hotel over these years.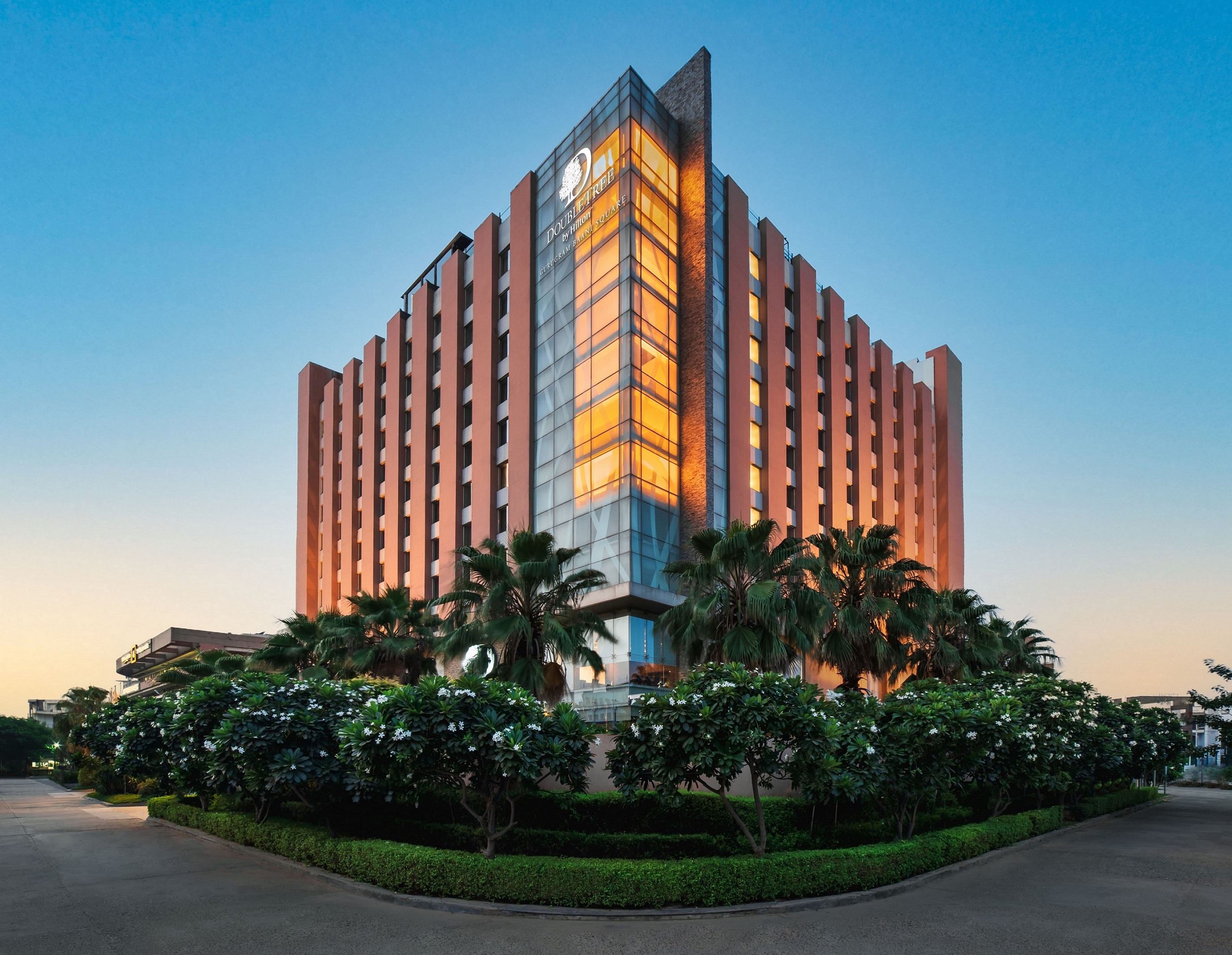 These initiatives further translate into three parts: Guests, Team Members and Community.
INITIATIVES TOWARD GUESTS
ELEVATED HOSPITALITY -
With the recent conversion of the hotel from Hilton Garden Inn to DoubleTree by Hilton, guests can now experience exceptional hospitality, with the DoubleTree signature Cookie welcome and the brand's caring service. The hotel underwent a series of renovations and upgrades, including a reconfiguration of the lobby to provide more spaciousness and seamless access to the patisserie, Café O Lait and all-day dining restaurant, Glasshouse, with new flooring and ambient lighting. Vibe – The Sky Bar, known for its iconic panoramic views and fashionable edge, now offers handcrafted cocktails to be enjoyed alongside lip-smacking bites. The 201 guest rooms now feature 55-inch Smart TV and updated contemporary design touches in line with the DoubleTree brand.
3X POINTS –
Guests at DoubleTree by Hilton Gurugram Baani Square can continue to benefit from Hilton Honors, Hilton's award-winning guest loyalty program. Through March 31, book a new event at our hotel to receive Triple Hilton Honors Bonus Points and use these points toward future events, free nights and more.
TRAVEL WITH PURPOSE –
As part of the Hilton's Travel with Purpose initiative, DoubleTree by Hilton Gurugram Baani Square reduced its environmental impact by practicing green initiatives in maintenance, services and products. Few of the initiatives include reduction of single use plastics such as plastic water bottles and straws in rooms and event spaces, the use of biodegradable food containers for events and food deliveries, the use of recyclable disposable bags and more.
THE WEEKEND PACKAGE –
With the arrival of New Year 2023, DoubleTree by Hilton Guugram Baani Square has introduced The Weekend Stay and Dining Packages. The aim of these packages is to offer an exceptional guest experience for those who often like to go out on weekends for a short break.
The Weekend Staycation covers stay in a superior room, welcome amenities, hi-tea on arrival, buffet breakfast and lunch at Glasshouse, buffet dinner with live band at Glasshouse, 30% discount on beverages at Pose –The Fashion Bar & Vibe – The Sky Bar and late check-out till 1500 hours (subject to availability). On the other hand, F&B includes Weekend Lunches, Weekend Dinners with live entertainment and Sunday Brunches at Glasshouse offering lavish buffet, live counters and live entertainment. 
INITIATIVES TOWARD TEAM MEMBERS 
IT'S OK –
Over the past 103 years, Hilton has come a long way not only in expanding the ever emerging demands of Travel globally, but also caring for the Heart of the company i.e. its Team Members. Considering the fact that often team members are so occupied in their professional set up that either they limit the personal time with family and dear ones or in other forms, their personal work related to bank, school, hospital or even taking care of child at home becomes secondary, Hilton introduced 'IT'S OK' campaign that promotes flexibility in work culture. DoubleTree by Hilton Gurugram Baani Square welcomed this remarkable campaign and implemented at the hotel. 
REFERRAL PROGRAM –
Hotel recently relaunched Team Members Referral Policy which enables team members to refer candidates for the open vacancies and if the referrals join the hotel, team members can earn incentive. All team members are eligible to participate. 
THRIVE AT HILTON –
As part of Thrive at Hilton program that helps team members avoid stress and enable them to focus on wellbeing, the hotel built an internal Care Committee made up of team members of all departments and levels of hotel. The role of the committee is to demonstrate positive team relations, maintain high quality standards and create an environment that makes this hotel a desirable place to work. Recent initiatives include activities for team members such as conducting booster shots, medical camps, staff birthday celebration, town hall etc. 
CAREGIVING LEAVES –
The hotel introduced Caregiving leaves for its team members in cases when a team member requires to take leave(s) for self-care (personal illness or injury) or for the care of an immediate family member (i.e. spouse, children, parents, parents-in-law, siblings, grandparents, grandchildren, partner and/or pets) who is need of dedicated attention and care (physical or mental) then that team member can apply Caregiving Leaves up to a maximum limit of 10 calendar days per year.  
INITIATIVES TOWARD COMMUNITY 
PARTNERSHIP WITH LOCAL NGO
With our constant endeavor of touching lives, together, DoubleTree by Hilton Gurugram Baani Square and ResponseNet NGO hosted a wonderful activity for a set of underprivileged ladies who were learning Bakery art. All these young women were welcomed in the hotel by the leadership team and the Area Team Hilton. Under the supreme guidance of General Manager, Mr. Jai Chugh, they were hosted with the live signature DoubleTree Cookie making session by the panel of eminent bakery Chefs. Followed by a lavish high tea and a panel discussion with questions and answers round, the team of these young bright women left the hotel mesmerized. 
HIRING OF DIFFERENTLY-ABLED CANDIDATES
DoubleTree by Hilton Gurugram Baani Square firmly believes that a person is known by attitude, knowledge and skills that he or she possesses, not by the virtue of he or she look. Taking this belief ahead, we have recently hired differently-abled team members who are working in guest facing areas like any other team member and are quite popular among guests for their talent and service.
Terminal 2 was bestowed with 3 awards namely: Greenest building, most productive building and smartest largest airport building award GVK Mumbai International Airport Private Limited (MIAL), the company that administers
CAPA's comprehensive 200-page India Aviation Outlook Report FY2017/18, to be released in Feb-2017 at the CAPA India Aviation Summit stated that the domestic traffic could grow by nearly 25% in
An oasis under the Hinjawadi skyline, OTT – Over the Top is Radisson Blu Pune Hinjawadi's chic rooftop bar and grill, the perfect place to sip with Western Pune's after-work