Fiji Introduces 'Care Fiji Commitment' Program for Traveler Safety post-reopening  
With this newly added layer of security, travellers are one step closer to the Place Where Happiness Finds You
In anticipation of Fiji's borders re-opening to travellers, Fiji has introduced the "Care Fiji Commitment" which is a program dedicated to enhanced safety, health and hygiene protocols to ensure the utmost safety of travellers to Fiji in a post-COVID-19 world. Although Fiji's borders are currently still closed to international travellers, the introduction of the program represents a destination-wide assurance that Fiji is ready to welcome travellers safely back to its shores upon re-opening.
Since the declaration of COVID-19 as a global pandemic, Fiji has made health and safety its top priority.  Due to the country's quick and effective response to COVID-19, Fiji was able to contain the virus from a very early stage and mitigate any risk of the outbreak within the islands. The government's effective containment measures put in place in March 2020 meant Fiji was able to officially declare itself COVID-contained in June 2020. Now, with the introduction of the Care Fiji Commitment, travellers can be assured that Fiji is a safe destination to enjoy on their next vacation to the islands.
"The Care Fiji Commitment is our assurance to travellers that the health and safety of everyone who lives and travels here remains our number one priority," says Tourism Fiji Acting CEO, Robert Thompson. "Now, with this added layer of confidence in place, Fiji is primed to be an ideal post-pandemic destination – one that is and has remained COVID-19 safe, allows natural social distancing, has a wide variety of islands to choose from, offers mostly boutique resorts with under 50 rooms total, and is known for its wide-open beaches and expansive rainforests."
The Care Fiji Commitment program consists of the following key components: 
Globally Recognized Control & Mitigation Measures 
The Care Fiji Commitment is an ongoing commitment to maintaining protection measures against COVID-19 in Fiji. This includes having testing and surveillance processes aligned with the World Health Organisation (WHO) recommendations, local testing available at the Fiji Centre for Disease Control, WHO accredited isolation facilities, clear procedures in place for suspected cases, dedicated drop-in fever clinics for concerned visitors showing symptoms and a dedicated COVID-19 hotline.
Wellness Ambassadors
A designated Wellness Ambassador at each business will be available to travellers throughout their journey to assist with any COVID-19 related questions or concerns that may arise. The Wellness Ambassadors have undergone extensive training and are dedicated to implementing and upholding all hygiene protocols and COVID-19 safe practices.
careFIJI Contact Tracing App
Travellers will be strongly encouraged to download the careFIJI app which is a privacy-preserving, Bluetooth based mobile app which utilizes non-location tracking technology providing Bluetooth is enabled.  It gives an added layer of security for visitors that any contact with a COVID-19 case will be quickly and seamlessly identified.
Two-Way Commitment
Travellers will also be asked to commit to the program by postponing any travel if they feel unwell, communicating with the Wellness Ambassadors as needed, downloading the careFIJI app and adhering to all social distancing, sanitization and face mask regulations, where required.
For added assurance, travellers can book their trip with full confidence through Care Fiji Commitment Partners. To date, nearly 200 of Tourism Fiji's industry partners – including the resorts, restaurants, tour operators, attractions and more – have gone through an extensive training process as their first step in making the Care Fiji Commitment. The process is still ongoing and a full list of approved partners will be available once complete.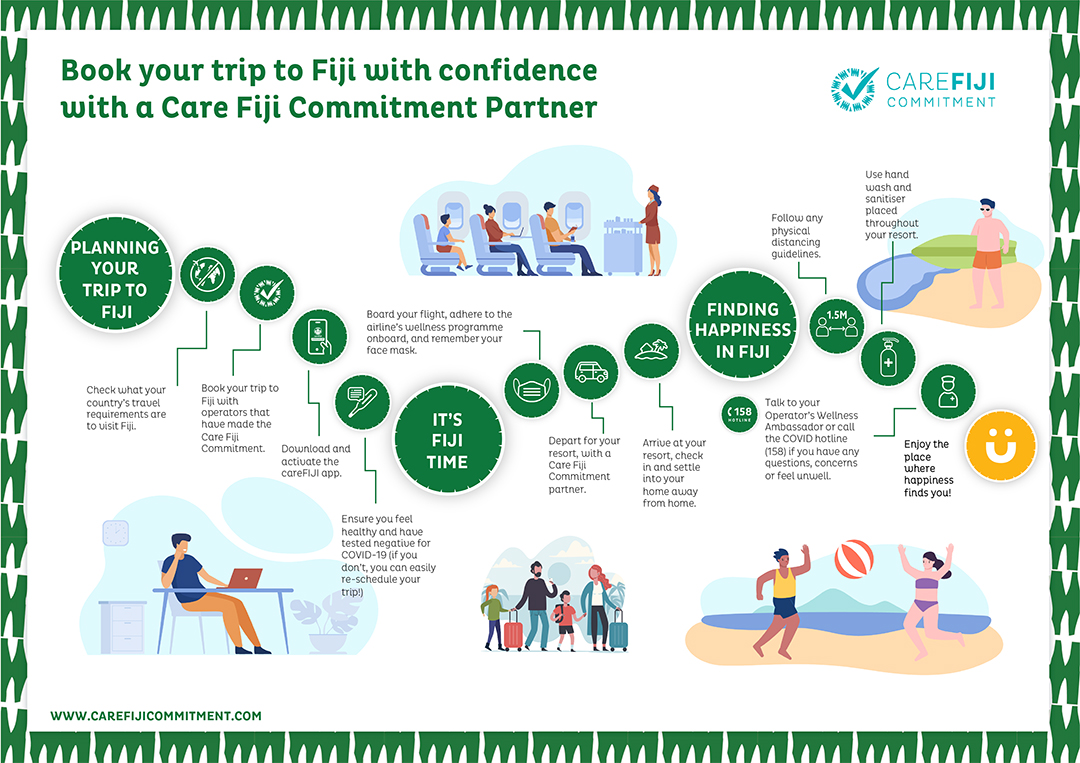 Ocean Park Summer Splash headlined by Asia's First LINE-themed Water Party will be held from July 1 to August 30 in Hong Kong. This year 10 COOL attractions at Summer
ANIL PARASHAR । PRESIDENT & CEO । INTERGLOBE TECHNOLOGY QUOTIENT We all are stuck in a time where keeping indoors is the best way to stay safe. With the hysteria
~Renowned Indian Footballer C K Vineeth flagged off the Paithalmala Marathon in Kannur~ C K Vineeth, Indian footballer officially flagged off the Paithalmala marathon, organized by District Tourism Promotion Council