Hotel Tracker for Summer 2015indicates flatter tariffs, fallingAdvance Purchase period
Mobile share of Hotel-booking grows to nearly half of all online bookings. Chandigarh, Nagpur and Vishakhapatnam show highest YoY growth in bookings.
MakeMy Trip, India's leading online travel company released Hotel booking trends in its 2015 Summer Hotel Tracker. This is the second edition of the tracker, an annual property analyzing trends in the dynamic Hospitality sector, which has seen a boom this year with heavy adoption of mobile bookings by travellers from Tier 2 centres. In good news for travellers, hotel tariffs remain flat compared to this period last year. However the Advance Purchase period has also reduced from last year. The tariff range for summer season across top destinations is:
the online hotel-booking segment, we have seen the market explode thanks to increasing mobile penetration and adoption, especially for last-minute hotel bookings. We offer the largest domestic hotel inventory with over 25000 properties in India, across categories, including home stays and service apartments. Whatever be the customer need, they can find a hotel online – quicker and cheaper. Due to relatively flat tariffs and lower advance purchase cycles, travellers who have not booked their summer holidays can still get great deals online and via mobile."
Commenting on customers' hotel-booking behavior, Mohit added,"Hotel-booking on the move via mobile devices is really popular this season. We have seen the share of (domestic) hotel bookings on mobile grow to 41% of online bookings (compared to 29% last year). This has also promoted the trend of last-minute bookings, with nearly 70% of bookings made within a week of travel. Of this, nearly 50% is made in the last three days of travel. This trend is especially visible for nearby and drivable destinations compared to those that take 9-10 hours to reach. Interestingly, check-ins over long weekends see a 2x spike, showing how the last-minute bookings are also fueling weekend getaways."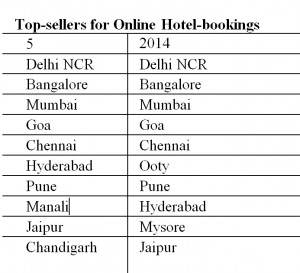 Destination trends: Mohit highlighted, "Goa, Ooty and Jaipur continue to be top sellersfor Hotels this summer season, but smaller destinations such as Landsdowne, Khajjiar, Yelagiri and Ganpatiphule have gained the highest thanks to the reach of online listings. Customers and Hoteliers are finding value in utilizing web and mobile-based interactions."
• Goa and Ooty continue to be among the top summer destinations
• Pondicherry, Shimla, Manali, Jaipur, Coorg, Gangtok and Darjeeling are the other top-sellers
• Highest gainers of Online Hotel Bookings (Top 10 metros & non-emtro cities): Chandigarh, Nagpur, Vishakhapatnam, Amritsar, Ahmedabad, Vadodara, Hyderabad, Varanasi and Lucknow.
Sabre's global networks and technology solutions offer rich airline content for customers and travel agencies within Indonesia. Sabre Corporation, the leading technology provider to the global travel industry, today announced
Sabre Corporation announced that its board of directors has appointed Sean Menke as president, CEO and a member of Sabre's board, effective December 31, 2016. Menke will succeed Tom Klein,
Sabre Corporation has named Cem Tanyel as Sabre executive vice president and president of Airline Solutions, effective 10 September and reporting to Travel Solutions President Dave Shirk.  Tanyel is a seasoned technology leader