India's first "Tourism Conclave 2023″ in Gujarat: A glimpse
Ahmedabad witnessed a gathering of over 400 tour operators, event organizers, and hoteliers for India's inaugural tourism conference on January 7, 2023. "Tourism Conclave 2023," was held in partnership with Gujarat Tourism and the Tourism Development Society, and was organized to commemorate the 100th birthday of His Holiness Pramukh Swami Maharaj. The conference featured a roster of accomplished speakers, including Mulu Bera, the Tourism Minister of Gujarat, Hareet Shukla, Secretary of Tourism and Aviation for Gujarat, Alok Kumar Pandey, Commissioner & Managing Director of Tourism Corporation of Gujarat, Ajay Prakash, President of the Travel Agents Federation of India, Manoj Joshi, a prominent Bollywood actor, Captain Ashwin Solanki, Chief Nautical Officer of Gujarat Maritime Board, Atul Bhalla, General Manager of West & East India for ITC Hotels, and Manish Sharma, Founding Chairman and Managing Director of Akshar Travels.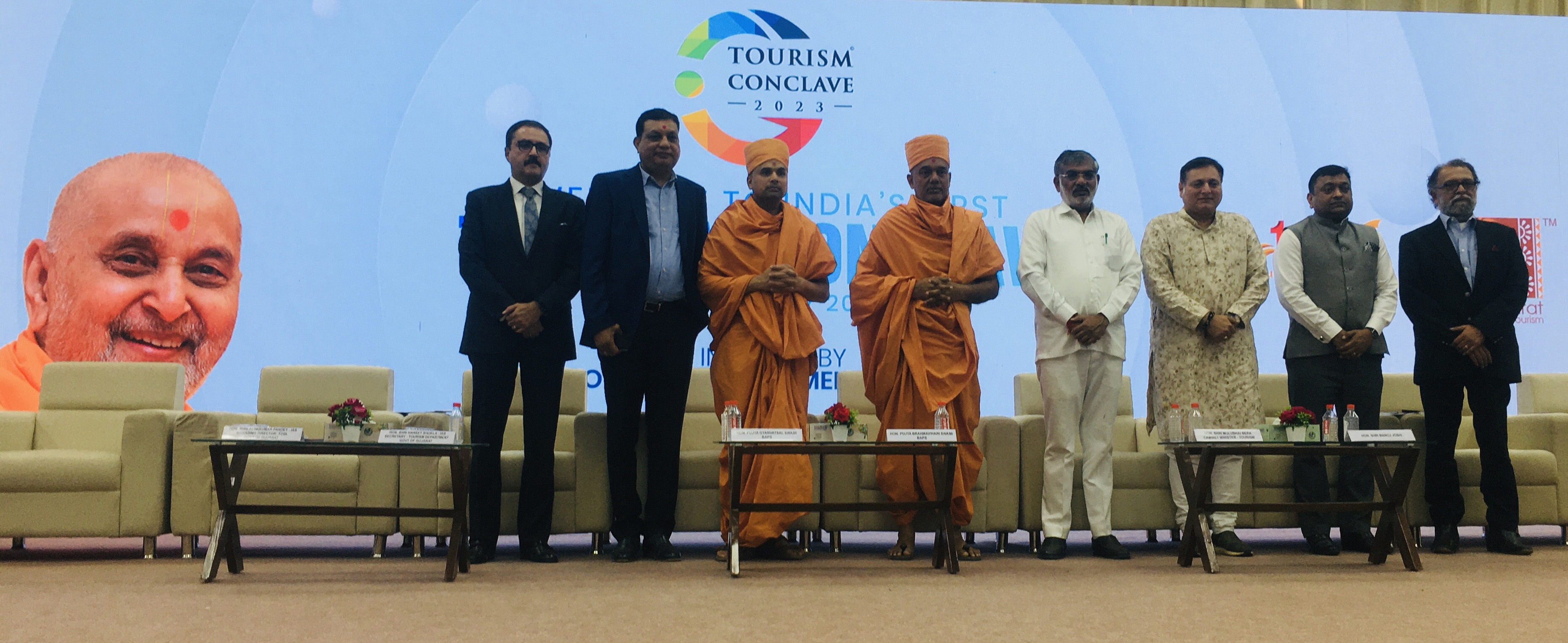 In his inaugural address on 'Values on Spiritual Tourism', Brahmaviharidas Swami said, "Tourism plays an important role in giving people a change of place and environment. But while places change, people don't change. We should ask ourselves whether we can create joy even after removing all the instruments of entertainment." He went on to discuss how Pramukh Swami Maharaj Nagar has defied traditional industrial practices, with over 80,000 volunteers coming together to construct a 600-acre complex through selfless efforts. He also highlighted how the Nagar has erased the border between temporary and permanent, and how the goal of the tourism industry should be to create permanent, positive experiences for people and enhance the quality of their lives. He further emphasized that people's lives are transformed when they are served beyond their expectations and that it's important to love your work and make people happy.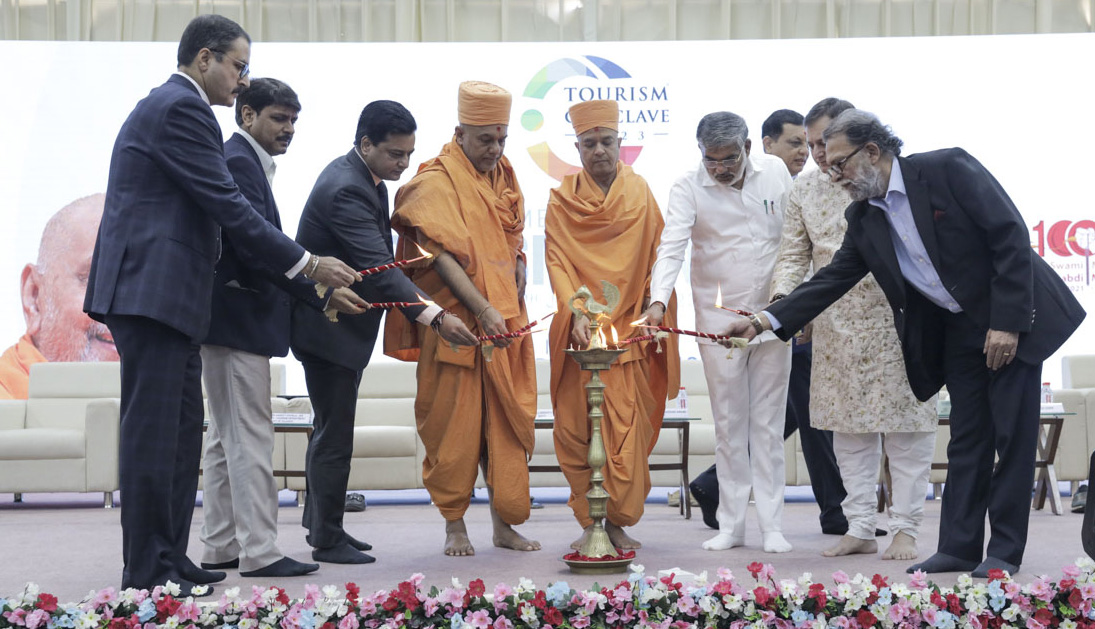 The Tourism Conclave in Gujarat kicked off with a welcome address by Manish Sharma, Founding Chairman and Managing Director of Akshar Travels, who highlighted the growth of tourism in the state since 2003, from 1% to 16%. The event, held at the spiritual venue of Pramukh Swami Maharaj Nagar, was the first of its kind.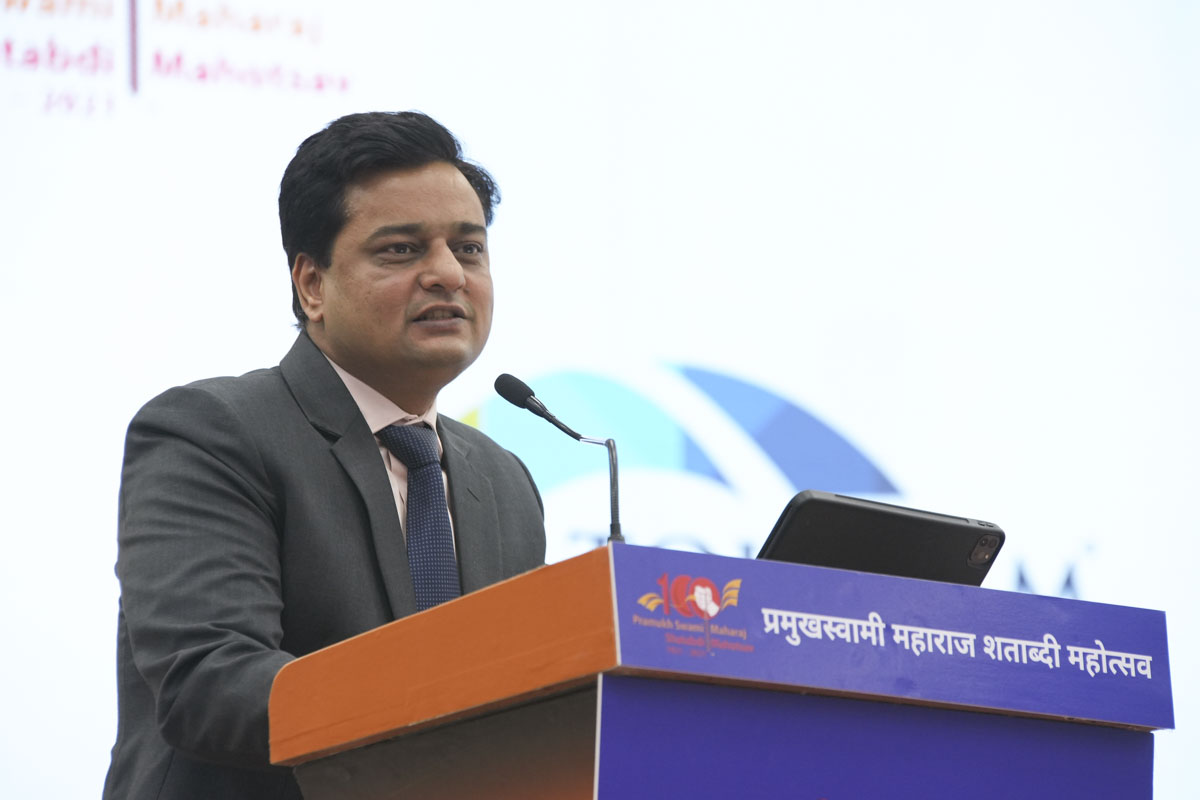 Thereafter, Honourable Hareet Shukla (IAS), Secretary of Tourism and Aviation for the Government of Gujarat, delivered a talk on 'Investment Opportunities of Tourism in Gujarat.' He began by saying, "Pramukh Swami Maharaj has been an inspiration for all of us." He then spoke about the diverse tourist places available in Gujarat and the different policies of the Gujarat Government in helping to increase tourism in the state. He said, "According to the States Survey conducted by India Today, Gujarat consistently ranks in the top 3 states for tourism." During his address, he also showed a short video on the UNESCO World Heritage sites in Gujarat.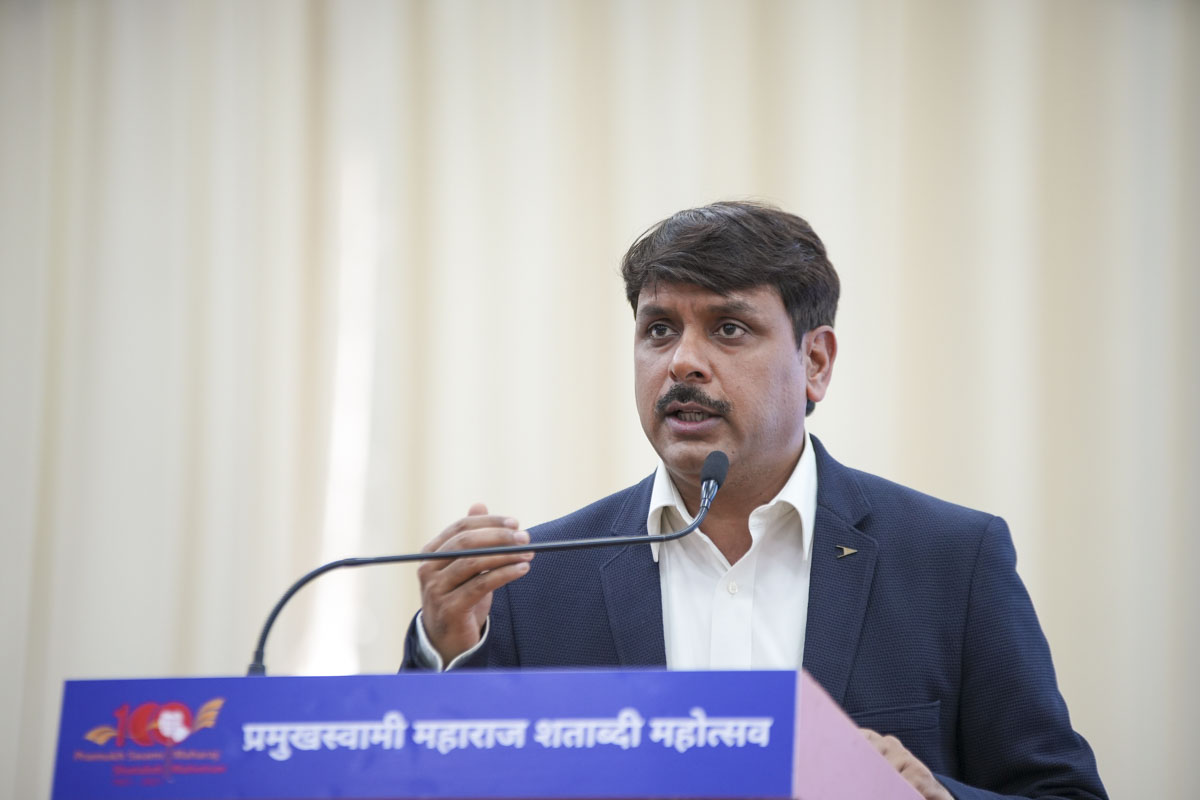 Subsequently, Alok Kumar Pandey (IAS), Commissioner of Tourism and Managing Director of Tourism Corporation of Gujarat, spoke on 'Tourism Growth & Key Opportunities in Gujarat.' He began by expressing his pride in the fact that Bhagwan Swaminarayan hailed from Ayodhya, which is near his native place. He then delved into the different facets of Gujarat Tourism, such as its diversity, culture, heritage, state-of-the-art infrastructure, connectivity, sustainability, and world-class tourism capabilities. He also spoke about the history of important spiritual heritage places in Gujarat, such as Girnar, Dwarka, Bet-Dwarka, etc.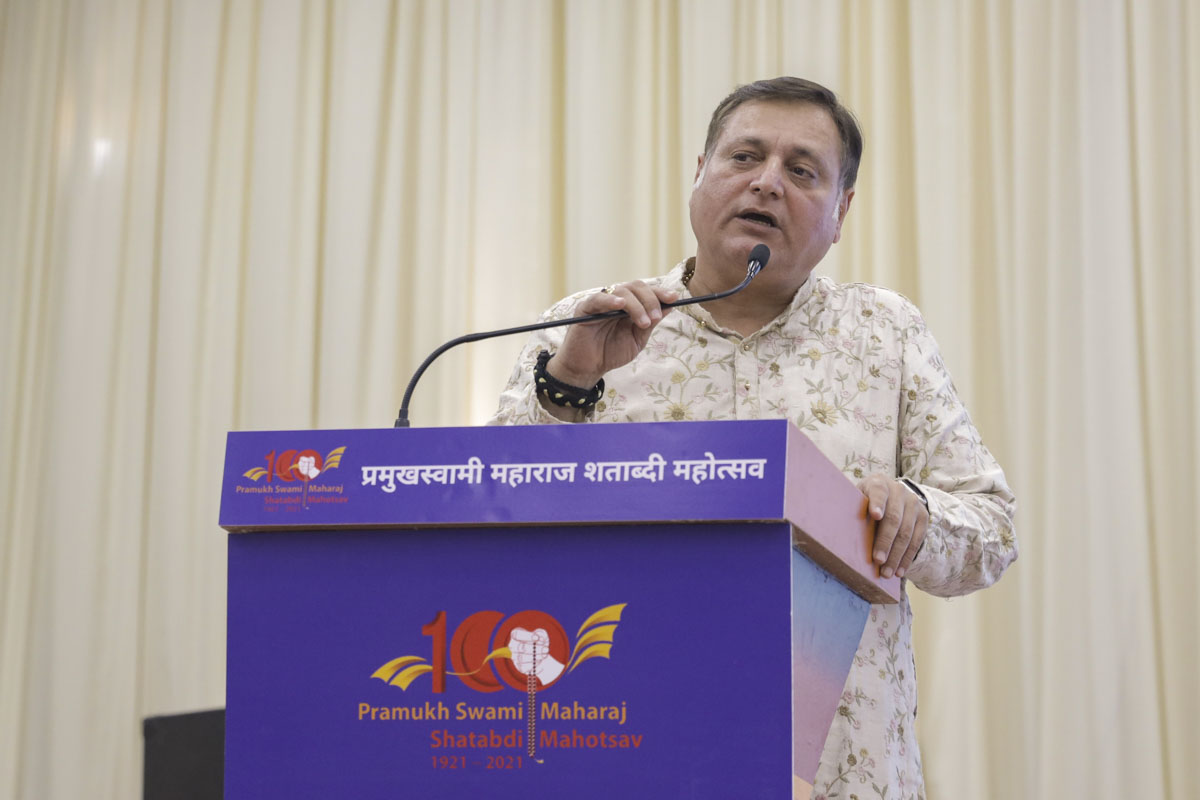 Manoj Joshi, a leading actor in Hindi and Gujarati cinema, shared his thoughts on Gujarat's spiritual significance, noting that notable spiritual, corporate and political figures, including Bhagwan Krishna, Dhirubhai Ambani and Sardar Vallabhbhai Patel, all belong to Gujarat. He also highlighted how Gujaratis are known for their industriousness and politeness and how these qualities have led to their success in various fields. He went on to speak about how the state's proximity to Mumbai makes it a popular destination for cinema shooting, providing employment opportunities to locals. He added that Gujarat is a haven of diverse tourist locations and due to government policies, it is becoming a cinema-friendly state.
In his keynote address, Mulu Bera, Honourable Tourism Minister of Gujarat, expressed his pride in the state's status as a pioneer in tourism. He specifically cited the largest spiritual festival in the world 'Pramukh Swami Maharaj Shatabdi Mahotsav' as reaffirming this belief. He mentioned that under the leadership and guidance of the Honourable Prime Minister Narendra Modi and the Honourable Chief Minister of Gujarat Bhupendra Patel, new tourist attractions are being added to make Gujarat a more tourist-friendly state. He noted that many tourists visiting Gujarat from around the world to experience the various festivals and engage in different types of tourism such as wildlife, natural, historical and spiritual.
Captain Ashwin Solanki, Chief Nautical Officer of the Gujarat Maritime Board, gave a speech on 'Marine Tourism of Gujarat' and highlighted the development of policies that have made the state a popular destination for water sports, cruises, Ro-Pax Ferry services and the National Maritime Heritage Complex.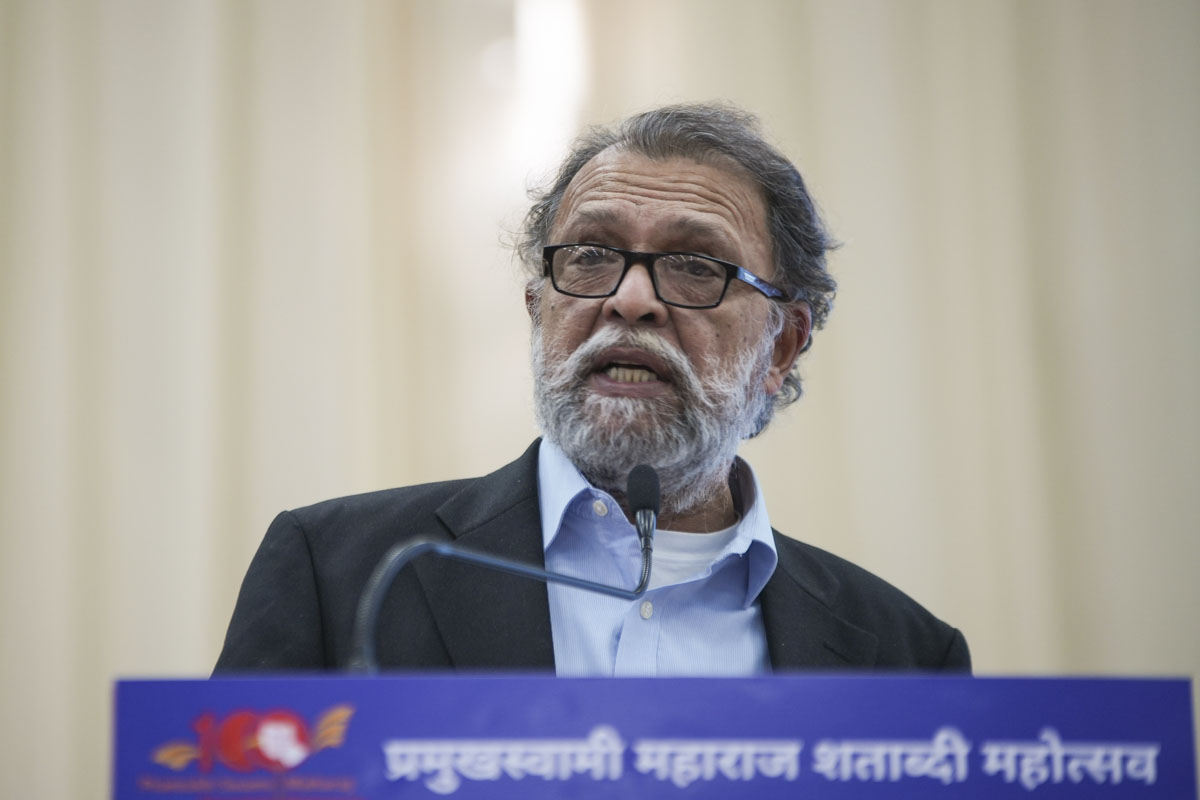 Ajay Prakash, President of the Travel Agents Federation of India, spoke on 'Tourism and Global Peace.' He said, "Tourism by creating jobs offers great opportunities for emerging economies and reduces inequality and poverty. It should strive to conserve the natural environment and cultural heritage and traditions. Travel and tourism are about engaging with humankind and nature. It is about making connections beyond boundaries. In today's times, travellers are more aware and discerning. The younger generation is much more conscious of the ecological footprint of any activity. So, all businesses need to take heed of this new paradigm." Overall, Ajay Prakash emphasized that tourism is about connecting people and cultures and that it has the potential to promote understanding and peace between nations.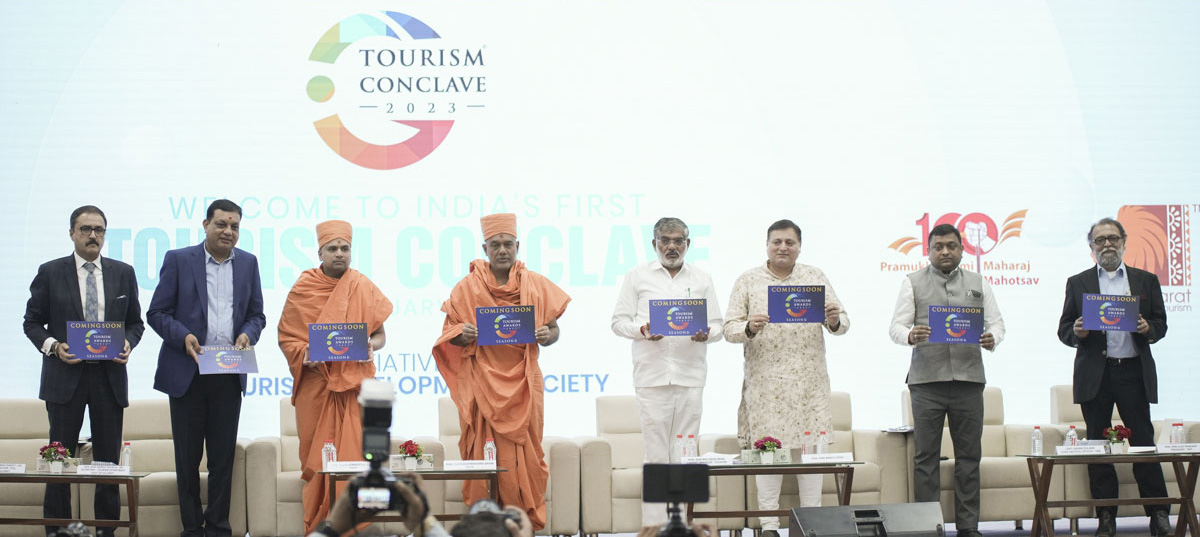 Gyanvatsal Swami, a prominent spiritual motivational speaker from BAPS, delivered a thought-provoking speech on the economic and spiritual benefits of promoting religious tourism in India. He cited the existence of approximately 3.5 million temples in the country, providing direct employment to over 35 million people and indirect employment to others, such as flower sellers and local market vendors. He argued that promoting religious tourism not only benefits the economy, but also promotes spiritual values and reduces social pollution. Swami also highlighted the impact of spiritual leader Pramukh Swami Maharaj, who travelled to over 50 countries, initiated 1,000 sadhus and created a permanent volunteer force of 50,000 volunteers, and suggested that one can learn that faith coupled with hard work and ethics is the key to success by observing the life of Pramukh Swami Maharaj. He also noted that Pramukh Swami Maharaj Nagar is a place where one can experience enlightenment, excitement, elegance, and entertainment.
India's Radhanagar Beach, Andaman and Nicobar Islands ranks #8 in the World! Baia do Sancho Fernando de Noronha, Brazil is #1 in the World Radhanagar Beach, Andaman and Nicobar Islandsis
"Environmental and social impact studies either have been completed or are near completion. I personally don't see any stress in getting the land (for the project)," Piyush Goyal told reporters
For 2019, Avalon Waterways has packaged Ganges River cruises in several itineraries. For the cruise portion, guests board the 56-passenger Ganges Voyager for a six-day, round-trip cruise from Kolkata. The cruise heads