Jive to the beats of Reggae Sumfest 2015!
- Montego Bay, Jamaica -
Jamaica will turn into a foot-tapping dance floor with the popular Reggae Sumfest set to take place from 12 July to 18 July this year. Jamaica's second largest city, Montego Bay will play the perfect host to this globally renowned festival. Reggae Sumfest like every year will feature A-Lister performances witnessed by thousands of music lovers from around the world.
Reggae Sumfest is often dubbed as 'the greatest reggae show on earth'. The influential icon Bob Marley developed the genre reggae in his home country, Jamaica. Marley died at the age of 36 doing what he loved, after devoting much of his life to music.
First staged in 1993, Reggae Sumfest quickly became popular not only in Jamaica but throughout the world. The festival has successfully incorporated international artists to the line up such as Usher, Chris Brown, Kanye West, Rihanna, etc in past few years. This year the festival kicks off with a Beachfest on 12th July at the Aquasol Theme Park with some renowned deejays and performers. The festival will be followed by other entertainment nights such as DanceHall Explosion, Show Time, etc. This years's line up includes top talents and international performers.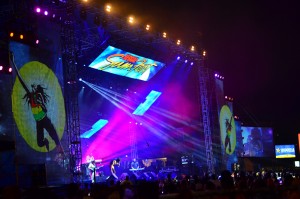 Reggae Sumfest is regarded as a premier reggae music event and is one of the best times to visit the island country. The festival is not only a paradise for music lovers but also for food connoisseurs to savour the most mouth-watering culinary delights.
Known fondly as MoBay, Montego Bay is graced with a modern international airport (Sangster International Airport) giving an access to vacationers to the music city. The waterfront is lined with picture-perfect sandy beaches, luxury hotels and elegant resorts. Montego Bay is home to the Hip Strip – a full mile of restaurants, entertainment, shopping, fun and excitement. Montego Bay is a thriving city abuzz with activities for every budget and preference.
Where else to be but in Jamaica, as this is the time for Reggae Sumfest, enjoying the reputation of presenting top class global artists. The event is committed to showcasing indigenous reggae talents and budding talents, while keeping the spirit of Promoting Music, the Universal Force alive.
Shandong welcomes the tourists to experience The Qufu International Confucius Culture Festival which is held every year between September 26th and October 10th in Qufu City, hometown of Confucius. Confucius
National carrier Air India is in talks with the Ministry of Culture to hand over its priceless art collections to the ministry for their display in the National Gallery of
The first phase of Oman's brand new Muscat International Airport is currently operational and has increased passenger capacity to 20 million- up from the previous 12 million passengers recorded in