SAUDIA Becomes First Airline to Offer "Your Ticket Your Visa" Service
SAUDIA, the national flag carrier of Saudi Arabia, has announced the launch of "Your Ticket Your Visa". The first-of-its-kind service provides guests with even easier access to the Kingdom through a digital integration system that links transit visas with flight tickets.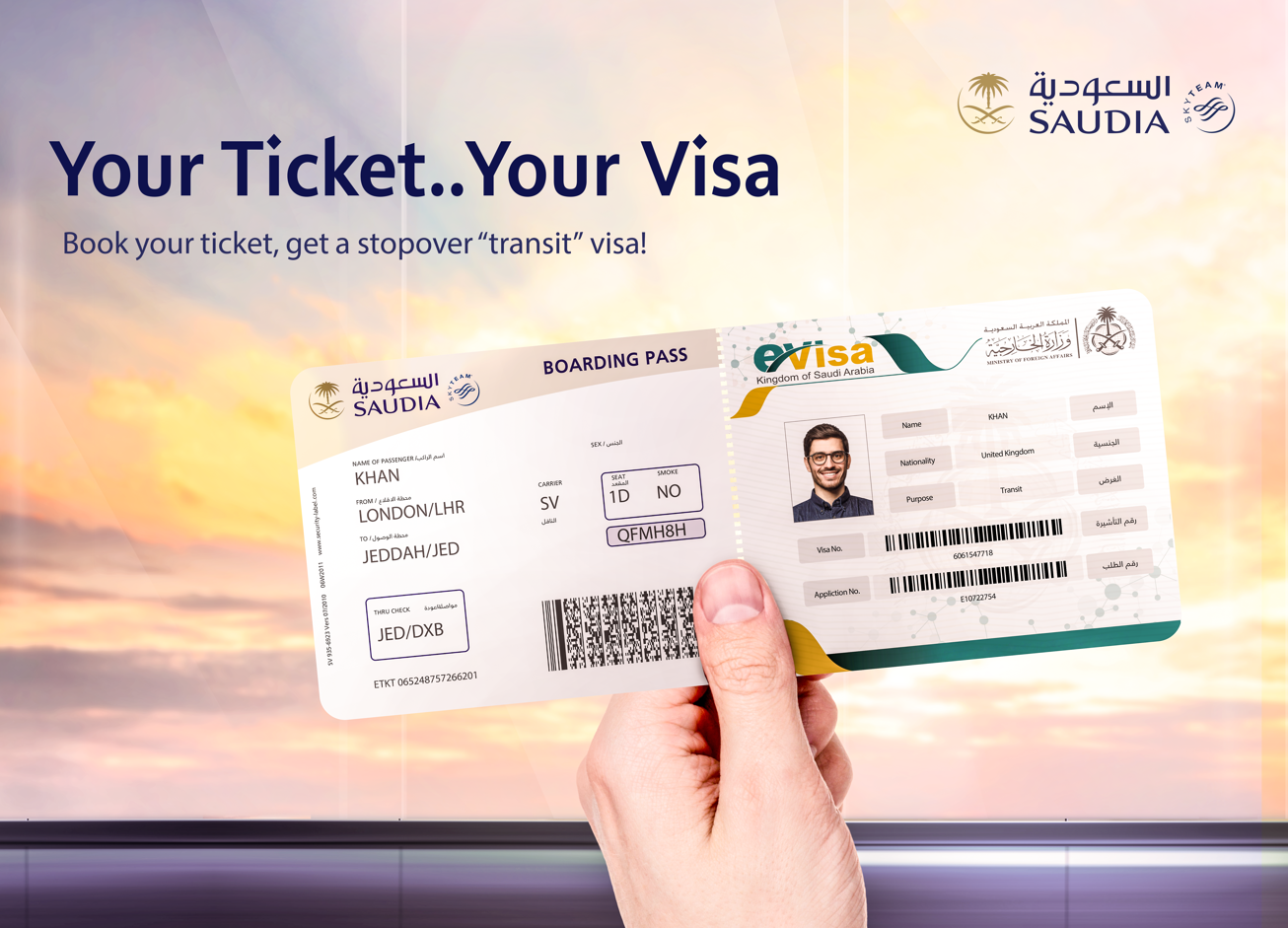 "Your Ticket Your Visa" service is introduced in collaboration with the Ministry of Foreign Affairs, the Ministry of Interior, the Ministry of Hajj and Umrah, the Pilgrims Service Program, and the Saudi Tourism Authority.
The new service, which covers all international airports in the Kingdom, will allow guests to stay in the Kingdom for up to 96 hours, during which they can travel around the Kingdom and perform Umrah. The digital integration with the Ministry of Foreign Affairs facilitates the issuing of the transit visa and links it to the flight ticket within three minutes.
Captain Ibrahim Koshy, CEO of SAUDIA, said: "The launch of this innovative and seamless Stopover Visa is the first of its kind in the aviation industry and a significant milestone in our digital transformation program. It is a testament to SAUDIA's commitment to supporting the Kingdom's strategic goal of reaching 100 million visits by 2030 and we are confident it will positively impact the growing number of transit passengers while enhancing our position as a hub that connects East and West. The new service will also encourage passengers to perform Umrah, visit key destinations and attend events and Saudi seasons."
The launch of the new service comes in line with SAUDIA's commitment to promote King Abdulaziz International Airport in Jeddah and strengthen its role in the region by configuring SAUDIA's flights coming from the east and departing to the west, facilitating travel procedures by collaborating with the Jeddah Airports Company, and coordinating with the Saudi Tourism Authority to provide incentive packages for those wishing to benefit from "Your Ticket Your Visa" service.
The "Your Ticket Your Visa" service is part of the digital services provided by SAUDIA via its website and smart applications, which are constantly evolving to facilitate and simplify travel procedures and make a shift in the after-sales services.
Thinking of white sands, clear lagoons, coral reefs and five star luxury resorts? If Maldives comes to mind, think again. Your next tropical island holiday could be closer home than you had
SpiceJet Chairman and Managing Director Ajay Singh — widely acknowledged as a turnaround specialist — was named 'Indian Entrepreneur of the Year 2017 for Business Transformation' by Ernst & Young
The Indian travel market is estimated to be $30Billion in size and continues to grow in double digits. 2017 saw Indians travelling more frequently than before, aided by affordable pricing