Strong traffic growth continues in May
Global domestic travel demand rose 6.6% in May, strongest in India.
The International Air Transport Association (IATA) recently announced global passenger traffic results for May showing strong demand growth compared to May 2014 for both domestic and international traffic.
Domestic travel demand rose 6.6% in May compared to May 2014, with the strongest growth occurring in India and China. Domestic capacity was up 6.2%, and load factor improved 0.3 percentage points to 81.0%.
India's domestic demand accelerated 18.2% in May compared to May 2014 likely owing to market stimulation by local carriers as well as notable improvements in economic growth.
China domestic traffic climbed 12.7% yearover- year. Although GDP growth slowed slightly in the first quarter compared to the fourth quarter of 2014, this does not appear to have caused a weakening in air travel demand.
Globally total revenue passenger kilometers (RPKs) rose 6.9%, which was an improvement on the April year-over-year increase of 5.7%. May capacity (available seat kilometers or ASKs) increased by 6.5%, and load factor rose 0.3 percentage points to 79.3%.
"May results confirm that demand for connectivity remains robust, but there are possible storm clouds forming on the horizon. The financial crisis in Greece and recent weakness in regional trade activity in Asia-Pacific have the potential to dampen performance in these markets in the coming months" said Tony Tyler, IATA's Director General and CEO.
International Passenger Markets
May international passenger demand rose 7.1% compared to May 2014, with airlines in all regions except Africa recording growth. Total capacity climbed 6.7%, pushing load factor up 0.3 percentage points to 78.4%.
Asia-Pacific airlines' May traffic jumped 9.4% compared to the year-ago period. Capacity rose 6.8% and load factor climbed 1.8 percentage points to 76.0%.
European carriers saw demand increase by 5.9%. Growth has been robust despite Europe's economic woes; however a further worsening of the Greek financial crisis could bring this positive trend under significant pressure. Capacity climbed 4.1% and load factor rose 1.4 percentage points to 81.6%, highest among the regions.
North American airlines' traffic rose 2.0% compared to May a year ago, which was an improvement on the April rise of 0.7%. Capacity climbed 4.2% and load factor fell 1.7 percentage points to 81.1%. Expectations for better economic performance in Q2 should support demand for air travel, but the strengthening dollar likely will continue to place downward pressure on international leisure travel to the US.
Middle East carriers' May demand soared 14.0% over the same month in 2014. Markit's measures of business activity in non-oil sectors continue to show improvement and point to strong growth. The result also could reflect some additional travel prior to the arrival of the month-long Ramadan period that began in June. Capacity rose 19.7% and load factor fell 3.7 percentage points to 74.6%.
Latin American airlines experienced a 7.4% rise in traffic compared to May 2014. Capacity climbed 6.8% and load factor rose 0.4 percentage points to 80.2%.
• African airlines' traffic fell 3.9% in May yearto- year, most likely owing to adverse economic developments in parts of the continent, including Nigeria, Africa's largest economy, which relies heavily on oil revenues. Capacity dropped faster than demand, slipping 4.9%, with the result that load factor improved 0.7 percentage points to 64.6%.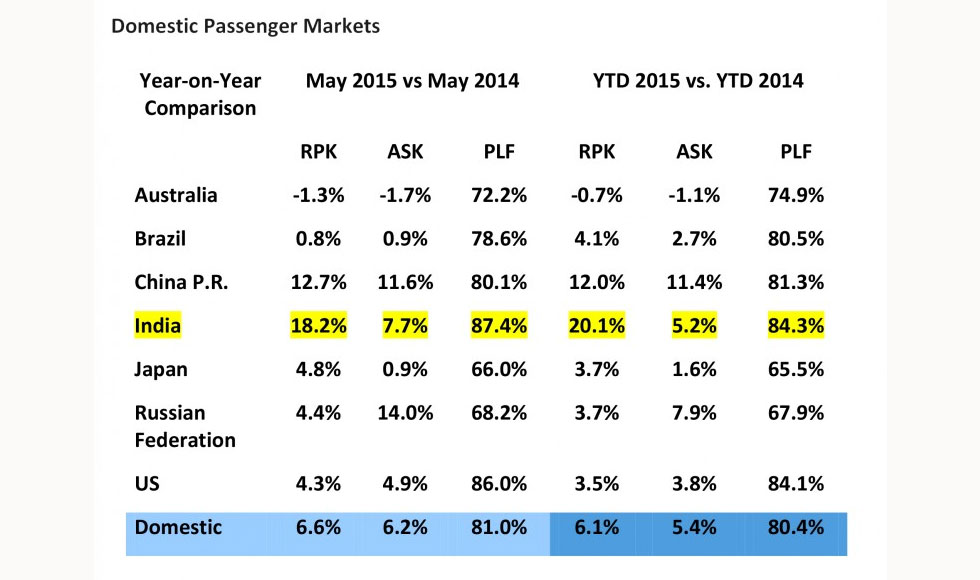 Kerzner International Holdings Limited ("Kerzner"), the owner of the ultra-luxury One&Only Resorts and iconic Atlantis Resort & Residences brands worldwide has announced the launch of One&Only Desaru Coast in Malaysia. A 128-acre
AVANI Hotels & Resorts is thrilled to announce the development of its first resort in the Maldives. AVANI Fares Maldives Resort will be located on Fares Island in the Baa
Cybiz Super Brands has joined hands with Molecule Air Bar for opening rights of its franchise outlets in 2 years! Cybiz Super Brands signed a Master Franchise agreement with Molecule