Uttar Pradesh CM Yogi Adityanath inaugurates first VFS Global Joint Visa Application Centre and skilling academy in Lucknow
VFS Global Joint Visa Application Centre (VAC) to serve as UP's gateway to the world.
The state-of-the-art facility spread across 24,000 sq. ft to cater to travellers bound to Austria, The Netherlands, The Czech Republic, Switzerland, Estonia, Hungary, Portugal, Germany, Italy and the Kingdom of Saudi Arabia
VFS Global will open an academy in partnership Indian Hotels Company Ltd. (IHCL), India's largest hospitality company with brands including the iconic Taj – ranked as the World's Strongest Hotel Brand and India's Strongest Brand as per Brand Finance – SeleQtions, Vivanta and Ginger, to train local youth in world-class hospitality skills and enable employability in line with the UP-government's skilling programme.
Lucknow becomes the 21st Indian city to house a VFS Global VAC; in line with the company's vision to expand footprints in tier 2 and tier 3 cities
The Chief Minister of Uttar Pradesh, Shri. Yogi Adityanath launched a new global gateway for the state with the inauguration of the first VFS Global Joint Visa Application Centre (JVAC) and the VFS Global Academy in Lucknow on 04, February 2023.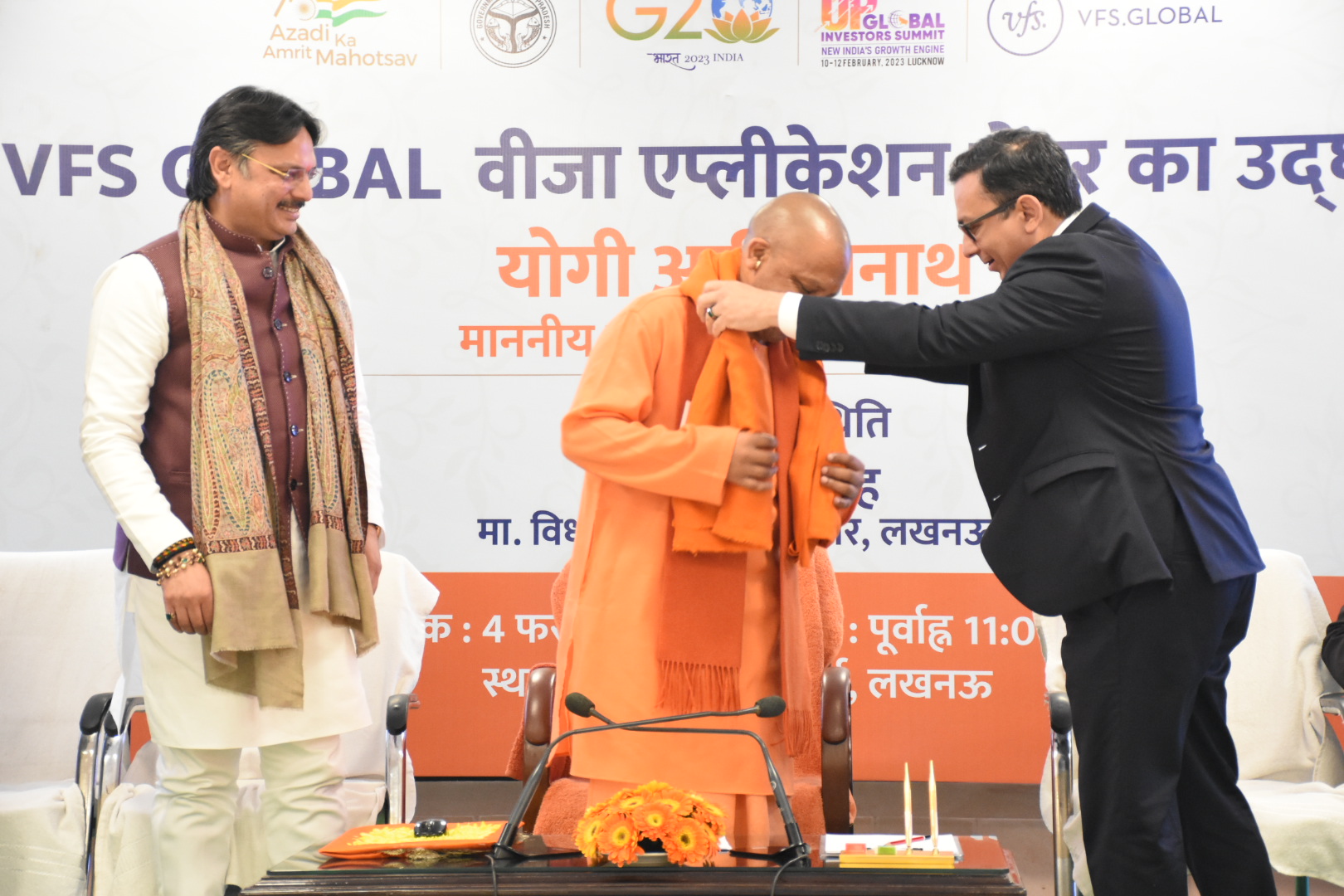 Honourable Chief Minister of Uttar Pradesh Yogi Adityanath (centre) with Dr. Rajeshwar Singh, MLA Sarojini Nagar (left), and Mr. Zubin Karkaria, Founder and Chief Executive Officer, VFS Global (right), at the VFS Global Joint Visa Application Centre inauguration in Lucknow
VFS Global is the world's largest outsourcing and technology services specialist for governments and diplomatic missions.
This spacious and comfortable facility equipped with modern amenities and services will have the capacity of processing approximately 1.2 lakh applications a year and will be of immense benefit to the citizens of Uttar Pradesh, who till now had to travel to other cities like New Delhi to submit their visa applications.
Spread across 24,000 sq.ft, the JVAC would cater to travellers bound to Austria, The Netherlands, The Czech Republic, Switzerland, Estonia, Hungary, Portugal, Germany, Italy and the Kingdom of Saudi Arabia. Located strategically on the 1st floor of the Interstate Bus Terminal, Alambagh (Shalimar Gateway Mall), the centre provides unparalleled accessibility to travellers using the inter-state bus service from the remote parts of Uttar Pradesh. It is also a short drive away from the Lucknow railway station, airport and a walk away from the Alambaug metro station.
With 11 submission counters and three biometric enrollment stations, the JVAC is equipped to manage the travel demand seamlessly. For discerning set of applicants seeking enhanced submission experience services, the facility has premium optional services such as Premium Lounges that enables application submission without having to wait in a queue. Form-filling assistance, Courier Passback, Courier Insurance, Travel Medical Insurance and SMS Notification are some of the other optional services to be available at the centre.
In addition to easing visa accessibility, VFS Global will open an academy in partnership Indian Hotels Company Ltd. (IHCL), India's largest hospitality company with brands including the iconic Taj – ranked as the World's Strongest Hotel Brand and India's Strongest Brand as per Brand Finance – SeleQtions, Vivanta and Ginger, to train local youth in world-class hospitality skills and enable employability in line with the UP-government's skilling programme.
"Lucknow makes a big move to integrate with global networks. While heartily welcoming VFS Global to Uttar Pradesh, I humbly commend the initiatives of Hon'ble Chief Minister Shri Yogi Adityanath who has consistently been committed to the progress of the state. The infrastructure development heralded over the last 6 years will support the huge tourist influx this VFS Global initiative will lead to. The academy will bring in world-class tourism and hospitality education which will further hone the skills in this regard of our youngsters, generating more employment opportunities. This is one more feather in the brand Uttar Pradesh story", said Dr. Rajeshwar Singh, MLA, Sarojini Nagar, Lucknow.
"It is our great honour and pride to have the Honourable Chief Minister of UP, Shri Yogi Adityanath, inaugurate the Lucknow joint visa application centre. This centre is a testament of our commitment to the people of UP. Given the visionary governance demonstrated by Yogiji's government, the state of UP has great potential to become a global investment hub. We have worked with the Ministry of External Affairs Government of India, for nearly 15 years supporting inbound tourism to India as well as aiding overseas travel for millions from the country. The new Lucknow VAC would augment our commitment by significantly easing visa accessibility, empowering local youth through skilling and job creation and contribute towards making UP shine on the global map," said Zubin Karkaria, Founder and Chief Executive Officer, VFS Global.
Puneet Chhatwal, Managing Director and Chief Executive Officer, IHCL, said, "This partnership is in line with IHCL's commitment to build a talent pool for the hospitality industry. Given the growing potential of tourism in Uttar Pradesh, such skill building initiatives will help leverage the untapped potential of the region and create employability. We would like to thank the Honourable Chief Minister of UP, Shri Yogi Adityanathji for giving us this opportunity. We are delighted to collaborate with VFS Global to develop a hospitality-focused skilling centre in Lucknow."
The most phenomenal sun, sand, beach, spas and food- Maldives is a tropical paradise nestled in the Indian Ocean that travellers must add to their bucket list. It's not often
Eastbound Group, a consortium of travel and tourism businesses offering solutions for experiential journeys, integrated travel representation, end-to-end event management and B2B hotel distribution becomes one of the only four
"It is not the most intellectual of the species that survives; it is not the strongest that survives, but the species that survives is the one that is able best