Travel agents gain new level of airline fares information with Travelport Smartpoint 6.0
Travelport empowering agents to be better informed and sell more effectively.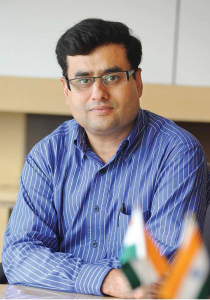 Sandeep Dwivedi,
    Chief Commercial Officer, ITQ
InterGlobe Technology Quotient recently announced the latest version of Travelport Smartpoint, its innovative point of sale product for corporate and leisure travel agencies which has now won awards for innovation across four continents. Travelport Smartpoint 6.0, provides travel consultants with further capabilities to advise their customers about the entire range of products, optional services and offers available from the airlines that Travelport distributes, with fully interactive, graphical screen displays and real time booking.
Travelport Smartpoint 6.0 is available now either as a simple download to desktop app or an automated upgrade for those using web browser version. Using this latest iteration of this product, travel agents can now access an airline' branded fares and ancillaries at the availability, fare quote and fare shop stages of the booking process, providing a new level of product insight and information at more of the key stages in the customer buying experience. In turn, travelers can be better informed of the products available to them, the options that might exist, the cost of the next product up and the ancillary products available to buy, to tailor their journey to their specific requirements.
Further enhancements also include reducing the number of clicks required to access important information and the ability for agents to book and pay for the wide portfolio of low cost carriers Travelport has integrated into its platform, using debit cards (in addition to credit cards) within the same booking workflow.
Travelport Smartpoint 6.0 is the latest showcase for Travelport Rich Content and Branding, our industryleading airline merchandising solution which takes branded fares, product attribute selling, comparison shopping and ancillary service attachments to a unique and innovative level in the travel industry. Over 100 airlines have now signed up with over 70 airlines already live with enriched product content, enabling them to put across their full value, content and offers to travel agencies when they search, sell and book flight options for hundreds of millions of corporate and leisure travelers around the world.
Speaking on this, Sandeep Dwivedi, Chief Commercial Officer, InterGlobe Technology Quotient, said "This latest version allows travel agents to sell more effectively and efficiently, increase revenues and grow their businesses. We are committed to deliver solutions to our customers what they exactly want from our products and services. We have received extremely positive feedback from the agents who have been testing this for us and we are excited to be rolling it out so all of our customers can benefit."
Conversion of the country's largest travel agency, Air Market, propels Sabre to GDS leader in Mongolia! Sabre Corporation, the leading technology provider to the global travel industry, has entered into
Sarovar Hotels & Resorts announces the launch of its newly redesigned website. Guests can now explore the website which has been designed to offer a more user friendly experience and
Dr. Mahesh Sharma, the Minister of State (I/C) for Tourism & Culture and Minister of State for Civil Aviation have launched "Swachh Parayatan Mobile App". Initially, 25 Adarsh Smarak Monuments
Travelxp, the world's leading travel channel reaching more than 91 million homes globally and renowned for mainstream travel shows filmed on the latest 4K technology, has launched a new show,
Destination Insight equips destination marketing organisations with timely insights into the competition and traveller intentions. Today's traveller is spoilt for choice. New air and ground connections and fast developing tourism
Ashton Kutcher, Gwyneth Paltrow, Elizabeth Gilbert, Brian Grazer and many more lined up to speak at the three day festival that aims to re-imagine the future of travel and hospitality!
Yet another feature that's first in the online accommodation segment. roomsXML.com has invested thousands of dollars and man-hours in building the feature that now displays the room types exactly as
2800 licensed taxi drivers express interest in joining the digital system Goa Tourism Development Corporation's (GTDC) taxi app 'GOAMILES' is all set to launch next month. Currently the app is in final stages  of
Sabre's new mobile platform will support business travelers' needs, drive compliance and lower costs for corporations! A smarter business travel experience is coming soon as Sabre Corporation (NASDAQ: SABR) announced
Sabre Travel Network Asia Pacific, a division of Sabre Corporation (NASDAQ: SABR), this week celebrated the one year anniversary of Sabre's major multi-million US dollar business expansion into APAC through
Sabre Corporation is in the midst of a major initiative to upgrade travel agency customers worldwide to the new Sabre Red Workspace, the company's intuitive point-of-sale tool for travel agencies. The
New partnerships empower the airlines to offer their content globally Sabre Corporation announced a new agreement with Lanmei Airlines and JC International Airlines, two rapidly expanding carriers based in Cambodia,