Unique shopping experience in Kenya
If you'd like to take home more than just memories of your trip to Kenya, you'll find a wide range of local products that make ideal souvenirs or gifts. Kenyan products are as diverse and unique as the country itself. There are traditional artifacts, fantastic jewelry, beautiful carvings, the world's best coffee, precious stones, furniture, beautiful cloth, excellent local music, wonderful modern art and so much more to be found.
Excellent, well stocked gift shops can be found in many hotels, lodges and camps throughout the country. But often real finds can be found a little further off the beaten track. For the dedicated bargain hunter, Kenya's markets are the place to be. Markets selling all kinds of local arts and crafts can be found all over the country.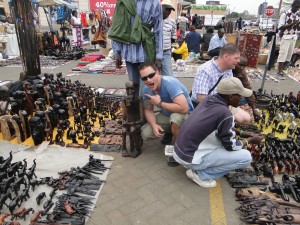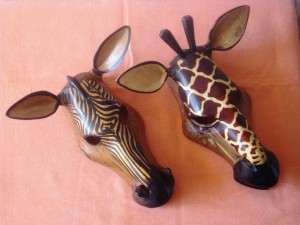 Nairobi, the safari capital of Africa, is a perfect place to combine the safari and shopping experience. Nairobi is a place of great contrasts where diverse cultures all become components of a unique Nairobi character. The city hosts several separate open markets on various locations around the city commonly christened the Maasai Market.Bargaining is the expected norm in Markets and even in some shops throughout Kenya. The art of bargaining has deep roots in Kenyan culture, and is regarded as an essential business skill.
Wherever you go in Kenya one can find endless shopping options. Major streets in Mombasa have numerous souvenir shops and galleries, and trader stalls are abundant on Moi Avenue and Nyerere Street.Tribal beads and bracelets are predominant, and will be presented to you for purchase almost anywhere you go. Soapstone from Western Kenya has been carved into an infinite variety of souvenirs, and can be acquired at very affordable prices. Wood carvings are economical and are widely found in every animal shape as well as salad servers and napkin rings. Lamu is an ideal place to shop for well priced coastal handicrafts. Lamu is famous for its woodcarvers, whose specialties include the famous carved Lamu Doors, Furniture, signboards and Swahili boxes, intricately carved and inlaid with brass, copper or marble work.
Maasai Market offers a range of colourful African artifacts such as baskets, Musk, bangles, earrings and Bead necklaces, wood carvings, T-shirts, safari hat etc. One of the great experiences for souvenir hunters is the Maasai Market, which can be found in Nairobi on different days. You can also visit a Maasai market in a Maasai village during your safari in Maasai Mara.
Shopping malls in Kenya are very convenient, places where you can do all your shopping in one location. Lucky for visitors Kenya has some excellent shopping centers where many excellent stores are side by side and some being open 24/7. Diamond Plaza, The Junction, Adams Arcade, The Village Market, the spinner's web, Diani Beach shopping centre, Yaya Centre etc are some of the most famous shopping malls in Kenya.
Built to withstand tough terrains while still providing great comfort to the wearer, the Safari boot, hand stitched at the Bata Limuru factory has been a Kenyan icon for decades. Wherever it travels, it easily conjures up the image of Kenya. There are numerous Bata stores in Kenya famous for these Safari Boots.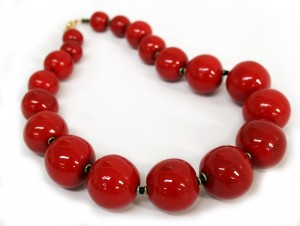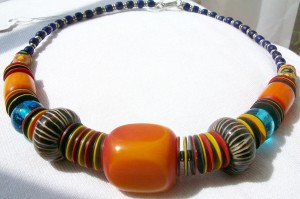 You also get a chance to do duty free shopping at Nairobi Airport, which host a wide range of stores. There are African clothes shops, jewellery shop, book shop, fashion shops and Liquor shops, cosmetics, toiletries, gift items and much more.
Amarula Fruit Cream Liqueur, distilled from the fermented fruit of the Marula tree, a native of the African plains is also very famous in Kenya. The spirit is aged for three years, and then blended with cream. If you like Bailey's you should give this a try. And the favorite tusker beer.
Last but not the least Kazuri's hand-painted ceramic or glass beads jewellery. Every bead which makes up a necklace or bracelet is shaped by hand by one of the 300 local women employed by Kazuri. The beads are then kiln fired once, glazed and fired again before being strung. The workshop is in Karen, named after Karen Blixen of 'Out Of Africa' fame, on part of the farm once owned by her. Karen, a beautiful area just a few miles outside Nairobi, lies under the Ngong Hills between Kenya's bustling capital and the spectacular Rift valley.
Maldives Marketing and Public Relation Corporation (MMPRC) is taking part at the travel show – Oneworld Travel Mart (OTM) which is being held in Mumbai at Bombay Convention & Exhibition
The Tata-Singapore Air venture to start with short-haul international destinations. Vistara, the Indian full-service carrier co-owned by Singapore Airlines, plans to start international flights later this year, seeking to capitalize on
Nijhawan Group in partnership with Turkish Airlines recently conducted a familiarization trip for top travel agents from India. The aim was to increase the knowledge of Bosnia and Herzegovina as
The heart of Delhi will soon get a luxury hotel with the Tatas checking in at The Connaught for 33 years, by winning the NDMC auction bid on Wednesday. The
The airport plan to complete the project 'Aadhaar-enabled entry and biometric boarding system' by December 31, 2018. An Aadhaar-enabled entry system is likely to be put in place at the
Goa is abuzz with the commencement of the tourism season 2016 and re-launch of adventure activities for the season is also a-motion to add thrill and excitement during the next
The Indian Railways will soon start deploying drones to monitor rail tracks, a step that could help the national transporter leap forward on the safety aspect which is an area
Lush landscapes, star-filled skies and the breathtaking beauty of some of the world's most untouched natural wonders and pristine beaches makes New Zealand the perfect place to fall in love.
The perfect locations of Cinnamon's resort properties in Sri Lanka will cater to any traveller's desire; whether you want to breathe in the cooling breeze of the hill country, soak
Bigger than ever before Amazing Thailand Grand Sale returns for 2017 from 1 June to 31 July Discounts of up to 80% on Thai and international brands Hotels, Airlines, Restaurants,
Chinese passengers are the most rapidly growing customer group at Helsinki Airport. Being able to use a familiar payment method will further improve their service experience at the airport. Helsinki
The Minister of State for Culture (Independent Charge) and Environment, Forest & Climate Change, Dr. Mahesh Sharma led the Indian delegation to the second UN World Tourism Organization/UNESCO World Conference